Course dates: April 20th - 22nd 2022 (Wednesday – Friday) This course will be 3 days of expressive painting inspired by the abundance and beauty of Spring flowers. The focus for finding a language for our paintings will be through colour and gesture. Working on a series of between 6 – 9 paintings over the 3 days we will celebrate the colour, the ordered chaos and the scent and joy of the subject. Gathering armfuls of colours and marks from the inspiration of the flowers to work with we will compose them by layering, selecting, editing, simplifying and inventing. The paintings will be an exploration into how to capture the life, light, delicacy and poetry of the subject. In the end the paintings themselves will become the subject.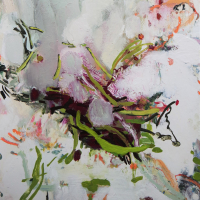 Online Course Time: 10am – 12.45pm The theme of this years Summer School is centred on capturing the sights, sounds, smells and movement of daily walks. Finding ways of capturing the energy and freedom by making studies while you are moving outside, and then bringing these into the studio to make paintings from. Walking can be a daily meditation, good exercise and a way of connecting to Nature.
Online Course Time: February 21st - 25th & 28th - March 4th 2022 (Monday - Friday) 10am - 11.15 am each day This course is all about motivating artists to get working in their studio every day, for 10 days. With daily input from Emily as your Paint Fit Trainer, the course will encourage you to make a positive commitment to your practice and instil a daily work ethic that will become an essential part of your painting routine.
| | |
| --- | --- |
| Start Date | 21-Feb-2022 10:00 am |
| End Date | 04-Mar-2022 11:15 am |
| Price | £250.00 |
| Tutor | Emily Ball |
| Course Details | paint_fit_winter_2022.pdf |