Emily Ball @ Cober Hill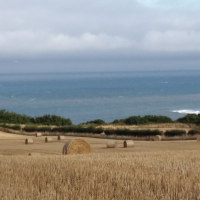 Working From Nature
For this course we will use the inspiration of the surrounding landscape at Cober Hill. We will go out into the landscape to make strong studies packed full of exciting information. These studies, made with black and white materials on paper, will be about selecting, expressing and organising visual and non visual information around us. We want studies that give back the experience of the place; celebrating and intensifying what you find exciting about being there. We will then use these studies back at the studio space to make paintings from. I will give demonstrations about handling paint and mark making to create painterly equivalents to the marks in the studies. Everyone will build up their own language of marks, layers, colour and shapes that will be the ingredients for the paintings. Students will become more confident and knowledgeable about the great flexibility and versatility of paint. They will receive help navigating the processes and problem solving that are part of making paintings. I will encourage experimentation and individual expression. I suggest that painting with either acrylics or oils on paper, canvas or board would be the best options for this course. For the studies it is helpful to have a wide range of black and white drawing materials; gouache, ink, charcoal, chalks, pencils, felt tips, an eraser, etc. The scale of the work is up to the individual. Be generous with your materials and open minded about the work created.
A materials list will be forwarded nearer the date.
"I encourage students to take risks and experiment with their approach to creating images and their use of materials. I do not teach traditional techniques. I help students to push their work forward and find ways of refreshing, strengthening and expanding their methods of selecting and assembly of information to create work that is individual and exciting."
Emily Ball trained at Exeter and Surrey Universities and is director and tutor of Emily Ball at Seawhite Studio. https://www.emilyballatseawhite.co.uk
A moderate level of mobility is required as we will be walking out in the landscape on the first day.
The course includes four nights, 3 course dinner, bed and full English breakfast, plus tea/coffee throughout the day and a snack lunch at the purpose built Joseph Rowntree Centre, part of Cober Hill Hotel http://www.coberhill.co.uk . All bedrooms are single occupancy, there is no single supplement for this.