Experiments in Watercolour - Pre-recorded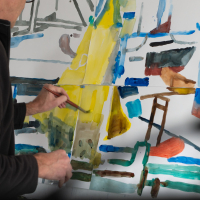 Experiments in Watercolour - Pre-recorded
Experiments in Watercolour is a three day practical course led by Simon Carter. The course aims to have a fresh look at the medium of watercolour and how it might be used in an expressive, experimental and contemporary way. The course will not be about technique, but will seek to use watercolour in a bold and painterly manner.
As we are more confined to our studios in the current situation, we will gather a group of natural objects to construct a surrogate 'landscape'. You will need to gather together a group of natural objects prior to the course starting (further instructions below).
For each day there is approximately an hour and a half long video where Simon practically demonstrates and talks about the processes that can be used to explore your subject and build paintings. These demonstrations encourage you to be bold and experimental in your approach.
Feedback
"It was a great course: very well organised and inspiring. We covered a lot of ground (& paper) in a very short space of time. I worked hard, learned a lot and feel there is much I can take from it for future work. It has certainly got me feeling excited about watercolour!"
Claire Winfield
Tutor