Summer School 2021 Walking the Land - Online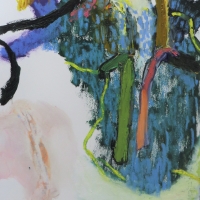 Online Course Time: 10am – 12.45pm The theme of this years Summer School is centred on capturing the sights, sounds, smells and movement of daily walks. Finding ways of capturing the energy and freedom by making studies while you are moving outside, and then bringing these into the studio to make paintings from. Walking can be a daily meditation, good exercise and a way of connecting to Nature.
This course shows you how to make poignant drawings and paintings about the things that you notice each day as you walk. Three themes; Sound, Movement and Time will be the focus to help this exploration of Walking the Land. Fleeting moments of bird song, glimpses of shapes in the distance, moving shadows, the rhythm of our breath and sound of feet as we walk, a cold breeze against the skin, vivid light bouncing over foliage and flowers, the tangle and urgent chaos of Nature weaving and pushing forward through the seasons. These are some of the many ingredients that might inspire your work. You will create 12 paintings/pieces inspired by these themes. We will show you how you can move your work towards abstraction and get greater freedom and expression into what you do.