The beauty of surface and grounds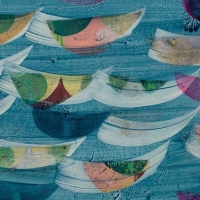 Dates - January 29th - 31st 2019 Tuesday - Thursday
Cost includes includes some specialist materials
Initially exploring the beauty of grounds, the first part of the course will involve a number of different materials including paper, canvas and board. Starting with the support and then applying the ground, we will be examining how these elements dictate the paintings appearance, playing with different absorbency and touch.
We will then be looking at how you build surface through different textures, layering paint through the repetition of pared down marks, gestures and techniques. The inspiration for these marks could come from a drawing, a print, a small painting, a photograph or even a piece of music. Something that would inspire a movement, emotion, atmosphere or the rhythm of mark making.
Finally we will be looking at pattern and the layering of surfaces, using a combination of collage and paint. Exploring different processes like casting, printing, stencilling and lovely possibilities especially in conjunction with collage.
Over the 3 days you will have created a series of experimentally layered paintings along with a set of skills and techniques to inspire future work.