From Sketchbook into Painting - Pre-recorded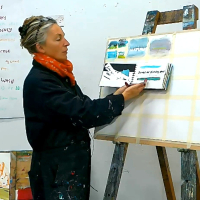 Have you ever wondered how to maintain the freshness and freedom of the work in your sketchbook when it comes to painting? If this sounds familiar, and you have sketchbooks full of exciting and experimental studies, just waiting to become inspire paintings, then this is the course for you!
This exciting painting course is designed to follow on from Katie's two inspirational sketchbook courses, Coming to Your Senses (landscape based) and Museum of the Self (on the subject of home). However, it could be used by anyone who has found themselves often pondering the same questions.
The main aim of this course is to demonstrate how your sketchbook can and will inspire a series of paintings, by removing the boundary between the work we do in a sketchbook, and the 'proper' painting. Throughout this course you will be invited to revisit the processes that you may have only used in sketchbooks before, including mark making, pouring ink, accidental marks, layering, rubbing out, collaging over, allowing the image to emerge from 'chaos'.
Tutor