Painting the Beast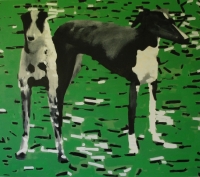 Course dates: 26 - 28 May 2020 (Tuesday - Thursday)
We are out window shopping in town when we trip on an uneven paving stone and before we hit the ground have become a ball of fear and fury, the veil of our civilization torn from us and replaced by a deeper instinctive, animal response.
We are fascinated by animals and by the animal in us. And this relationship is a constant and powerful theme in art whether that be Babara Kingsolver's exploration of her own fecundity in the Prodigal Summer, Kiki Smiths' tactile sculptures, tapestrys, drawings and prints, Paula Rego's ' dog women' and anthropomorphised rabbits, dogs and monkeys, Picasso's minotaurs or films such as The Levelling by Hope Dickson Leach or Bullhead by Michael R Roskam that powerfully and shockingly examine our contemporary agricultural relationships with the animal.
On this 3 day course practical course we will work in an expressive, gestural and tactile manner through drawing and painting on paper at a large scale from photographs and models to make images that combine the observational with our felt experience.
Each day will start with a slide show of relevant contemporary and historical artists and there will be regular critical reflections as the work develops.