Painting Patterned Cloth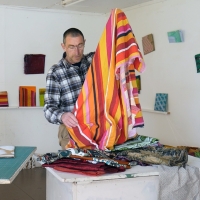 You can start this course anytime between Nov 1st 2021 – December 31st 2025. You can view the films as often as you like and for as long as you need.
Pattern is all around us. We wear it, live amongst it in our homes, cities and in the landscape. Its one of the ways in which we differentiate between things, and nature rewards us for being good at spotting it with intense visual pleasure.
Patterned cloth plays games with all of this, disguising and revealing, it responds to form and gravity and movement, it seems to be the perfect combination of the synthetic and the natural.
On this course you will be encouraged to make a series of shaped, painted and collaged relief constructions. Working with packaging cardboard, patterned cloth and acrylic paint you will make works that leave the flat rectangle behind to explore a more dynamic relationship with the wall, the architecture and the viewer.
These abstract works will focus intently on optical and material qualities and explore the fertile relationship between order and disorder, the conscious and the unconscious. They will be boldly visual, combining 3d form, rich pattern and sensually handled paint.
At the core of this workshop are strategies to help you become confidant in making critical decisions. Playful and excessive production, working in series and making simple comparative judgements pave the way for increasingly sophisticated critical evaluation.
The three films take you from support construction, material handling and application to final review and evaluation, with Nick demonstrating and explaining practical processes as well as giving insight into his critical decision making and giving a contemporary and historical context for the work.
Details of the fils are in the attached pdf.
Tutor