Painting the Colour Theatre - Pre-recorded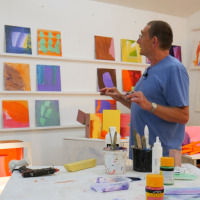 Colourful experiments in observation and abstraction
Pre-recorded Course Once registered, students have access to the films for as long as you need.
A three-day playful and experimental workshop in which you will make a minimum of 10 optically dynamic abstract paintings in response to a pair of evolving, highly coloured still lives constructed in modified and painted cardboard boxes. The paintings will be visually informed by the Colour Theatre still lives but not be slavish copies. Seeking instead a painterly visual equivalence for the three dimensional richness of the Theaters. The Paintings and the Theatres will be changed in response to each other.
The workshop aims to establish an evolutionary and experimental working process, where learning and development can be clearly seen. To this end we will work on at least eight of the ten paintings simultaneously, but only working on the least successful whilst holding onto the best until they have been superseded. This requires making simple comparative value judgements and enables clearly understood progress to be made. If your worst paintings overtake what were previously your best you have clearly made progress.
Working intuitively and being attentive to, and trusting of, your personal responses is central to the development of the work.
We will work with a limited range of marks and forms in both the constructions and the paintings, essentially stripes, blocks and blobs. Think of how Howard Hodgkin manages to create extraordinary evocations of space, place and human presence from similarly restricted means.
The colour we use will be shared between the paintings and the Colour Theatres to help with colour matching and to help the supportive relationship between painting and subject. The dramatic qualities of the Theatres and the paintings will be enhanced by the use directional lighting from a desk lamp, allowing shadows to play their role in creating relationships, dramatizing space and modifying colour and mood.
Paint manipulation is a core element of the course. Transparency and opacity, working in layers, fluidity and stiffness and other qualities will be explored through a range of application techniques.
There will be three 1hr instructional videos, one to start each day. In these Nick will demonstrate by making a number of still lives and a total of 12 paintings. He will take you through the whole process from constructing the Colour Theatres to evaluating the paintings at the end of the workshop.
Tutor