Floribunda - Online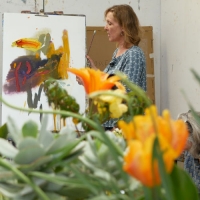 Students attending the course will be given demonstrations, both live online and with pre-recorded films, on how to tackle this complex and beautiful subject. Emily will offer exercises that unpack the process of making expressive paintings. It will give students the opportunity to truly immerse themselves in the experience of painting and drawing; embracing not only the visual joy of the subject but also the heady scents and tactile sensations.

A gallery page on the website has been set up for students attending the course to put their work on line. We will be able to look at the results of each days work. This will be a way of celebrating our shared experience and getting extra inspiration. It also gives Emily the opportunity to see the work and give each student one to one feedback each day, to help their progress and confidence.
This course includes:
A daily 2 hour live group tutorial each morning from 10 – 12.
Access to 3 extra pre-recorded demonstration videos to support you through the course when you are working alone during the rest of the day
Daily course notes, instructions and advice that can be downloaded.
At the end of each day you will be encouraged to email Emily photos of the work that you have done that day. She will then put them into a gallery on the website for the whole group to see. This also gives her the opportunity to look at your work and offer individual advice and support to you as the course continues day by day.
I will be using Zoom for our Video Communication. It is really easy to use. If you are not familiar with it (and to be honest I was not until 2 weeks ago) then what I will do is set up a 'Meeting' for each day of the course and you will be emailed a link to enable you to join the meeting at the specified time. I will be online early so you can check in earlier that 10 am if you wish. We can have a chat. To familiarise yourself with it perhaps download Zoom and practise using it with family and friends so that you feel comforatble and confident using it.