Online Course The Geography of Paint is a three day practical painting course led by Simon Carter.
It can be difficult to see how to use the drawings we make. Whether loose notes in a sketchbook or more complete and considered, our initial drawings often have a life and spark that is easily extinguished in the studio. This course will start with your own drawings made from the landscape, maybe from your garden, a local park or street, the beach or from a favourite walk and will look at different ways they can inspire a free and experi- mental approach to the painting process.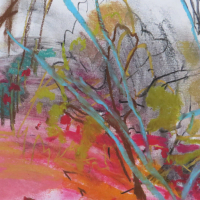 Online Course Time: 9.30am – 12.30pm Live online tutorials, 1.30 – 4.30 pm Working independently Autumn begins and Nature slows. As a celebratory finale the colours and majestic shapes of Autumn trees illuminate the landscape; often framed with a slate grey or sharp, clear, pale blue sky. Ornate tapestries of reds, oranges, yellows, browns, greens and purples appear in the canopies that reach skyward and spread out like hanging skirts. This 4 day course is all about capturing and exploring these qualities in drawing and painting.
| | |
| --- | --- |
| Start Date | 01-Nov-2021 9:30 am |
| End Date | 04-Nov-2021 12:30 pm |
| Price | £250.00 |
| Tutor | Emily Ball,Katie Sollohub |
| Course Details | autumn_trees_2021_online.pdf |