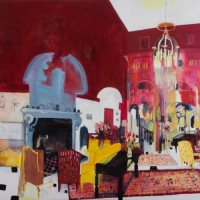 Course dates: June 17th - 21st 2019 (Monday - Friday)
Colour, light, atmosphere, decoration, detail, pattern and personality. A house with history, a home still lived in.
Be inspired by the interior space of Danny House, an Elizabethan Stately home, once lived in by Lloyd George (where the Armistice Treaty was signed!), now a home to Richard Burrows and his children, dogs and other animals, as well as being a retirement home. With 2 days to visit the house, you will be given guided exercises and simple materials to work with in the house itself, taking in the richness of your surroundings: the colour, light, rich furnishings and decorations, and the odd mixture of historical, architectural and domestic which is so distinctive to the place. Followed by 3 days in the studio, playing with the elements you have observed, to start and complete paintings, encouraged by Katie's innovative approach to keep open and experimental throughout the course.