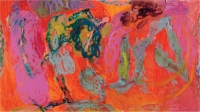 Course dates: November 20th - 22nd 2017 (Monday-Wednesday)
This course will explore the possibilities of changing light, colour and mark making. As you work Gary discusses the importance of direction, movement surface and the function of specific bodily energies. The qualities of what makes a painting will be explored. It should have what Gary refers to as 'an area of flexibility, to be alive and interactive with the spectator, without formula'. You will work on a large scale and develop drawings and paintings over the three days(mediums paper and canvas provided).
Includes large primed canvas and paper.