CHOREOGRAPHY OF MARK MAKING: WORKING LARGE IN SEARCH OF DELIGHT AND RIGOUR - NEW!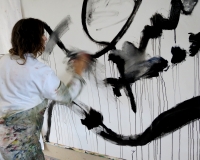 Course dates: 16-18 June 2020 (Tuesday - Thursday)

Price includes large sheets of paper and some materials.
This course is aimed at delving into the experience of mark making - the fun of it and the work of it. It offers you the chance to fine tune and enrich your mark-making language for deeper personal expression. With opportunities to extend your senses as an artist through music and body movement as well as experience the freedom of MAMMOTH mark-making, you will develop a new awareness of how marks can be both a response to a feeling and an evoker of feeling.
Working mainly on paper, you will make at least two large pieces of mark making – working with music as the inspiration. You will also create a set of small drawings generated from phone videos made by students. Together with music, these drawings will inspire at least one other large piece. Students will leave the course with a restocked creative tool kit that they can use to inform and inspire further work. Course discussions will consider the mark making of artists such as Joan Mitchell, Mark Rothko, Simon Carter and Cy Twombly.